About the setting
About our building:
We are based in 3-bedroom detached bungalow with a very bright conservatory, a summer house and a large garden. There is very easy access from the street and a huge driveway. We have got no stairs which makes the property fully accessible.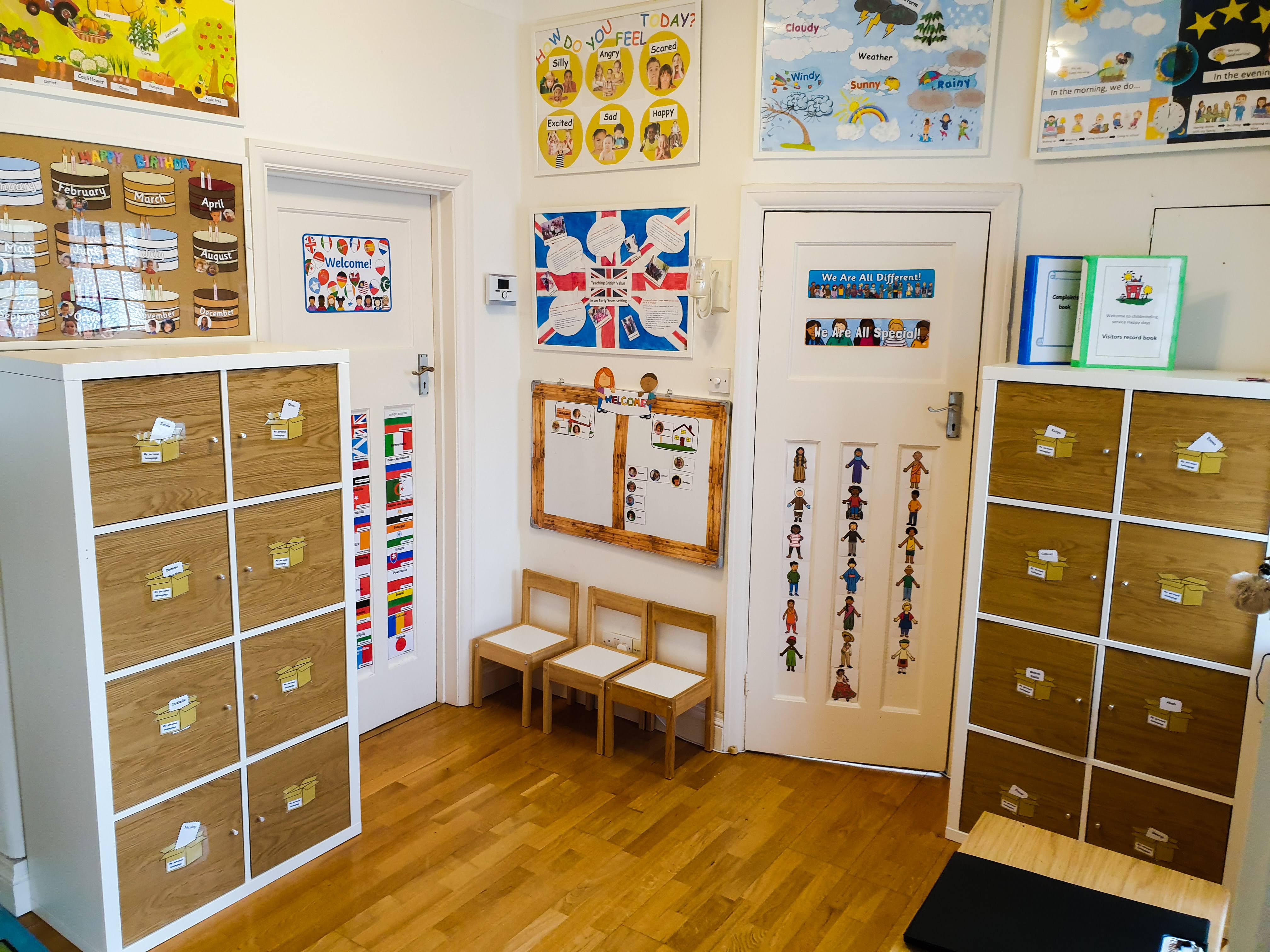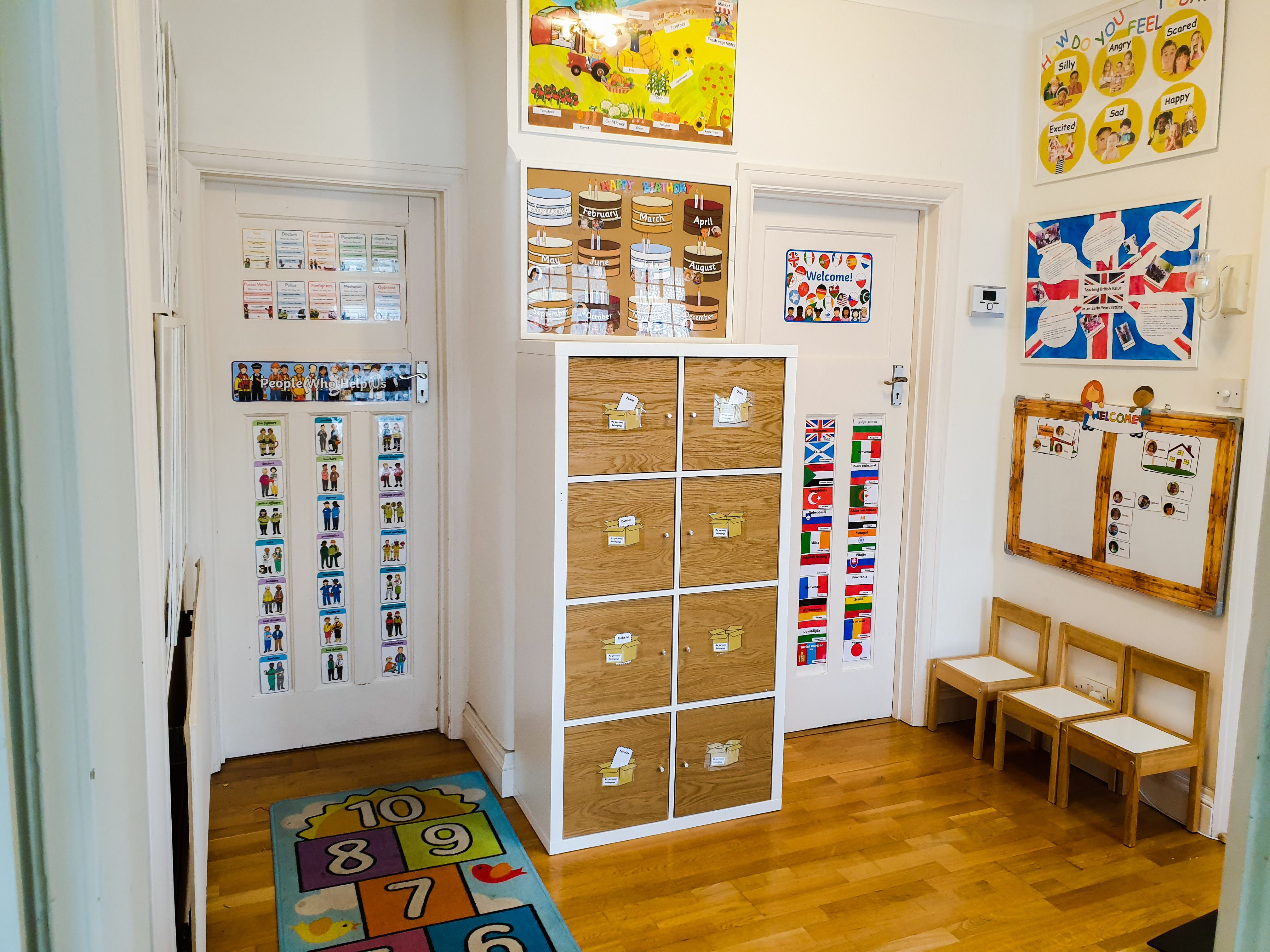 Welcome Area
The hallway is the place where children's wardrobes are based. Each child has got an individual box for his belongings. Every box has a child's photograph on it so the child knows that this is his own wardrobe. The children are very happy to know that this is their personal and private space. There is a bench where children can sit and get their shoes off/on.
There is the 'Family board' displayed with information about the setting. On the other side of the wall, there is another board displayed which is about 'People who help us'. This board always attract and challenge them to talk and share ideas.
On the opposite side, there is a Birthday board indicating the children's birthdays and 'wow moments board' as well.
The attendance register is also in the hallway. There is also a Complaints book and Visitors book.
The children's bedroom
The children's bedroom has got a baby cot and five beds, which fold against the wall when there is not nap time. Each bed has its own set of colourful sheets, duvet and a pillow. We have books in the bedroom so the children can have a look at them before nap time. It is quite often when we read stories and then 'shhhh…' they are fast asleep.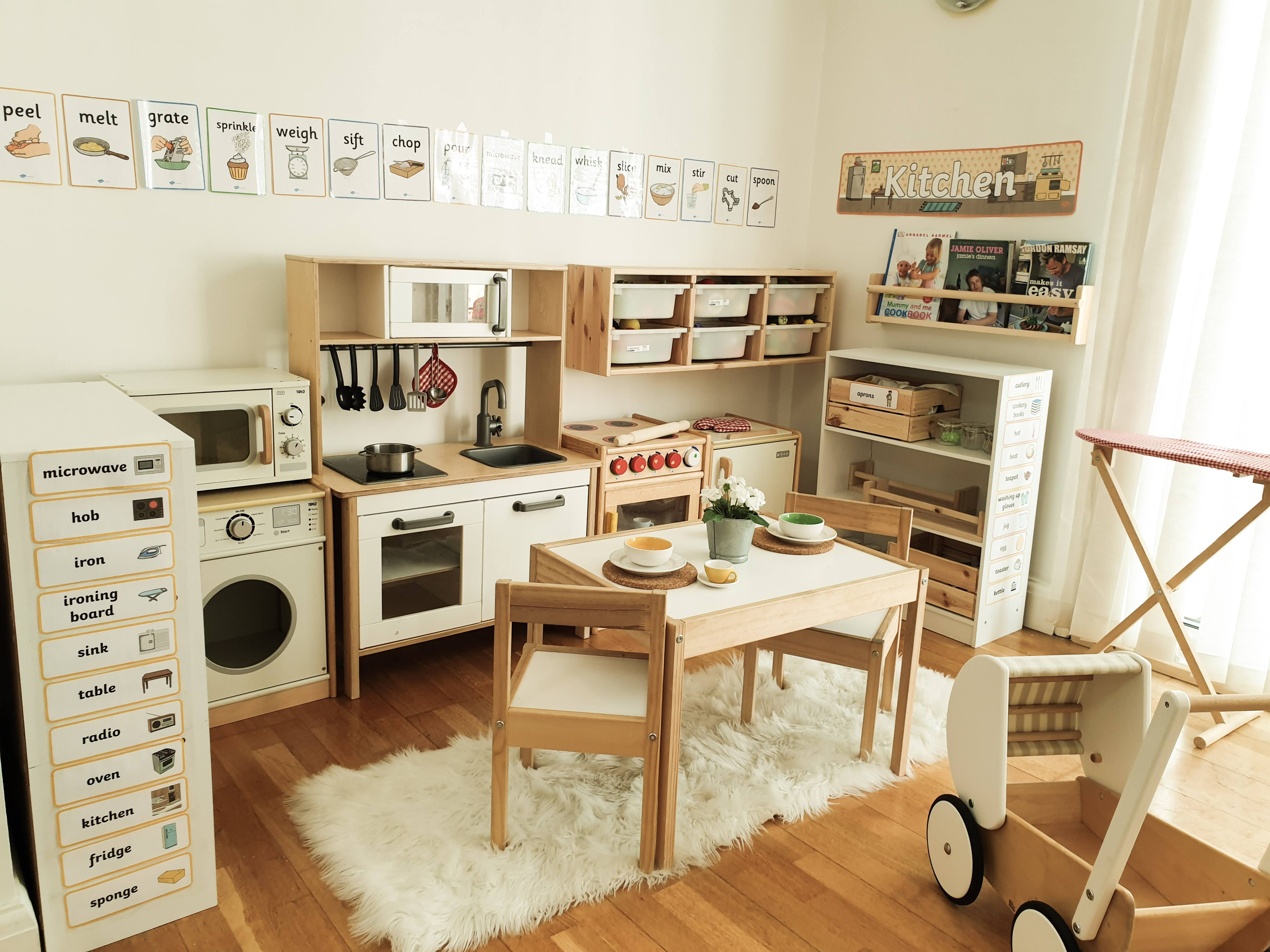 There is a bright and colourful carpet in the middle of the room, where we sit together and play a small game, such as 'Find the numbers on the carpet' or find the letter A, B, etc' and children really love it.
The book area is also based in this room. There are many books available with soft and cosy cushions. Usually children sit and look at the books. If they need rest or just to talk to each other they sit on the sofa.
We have got a TV in the room and sometimes we listen to our favourite songs. Moreover, the children also do their magical dancing which is unforgettable performance.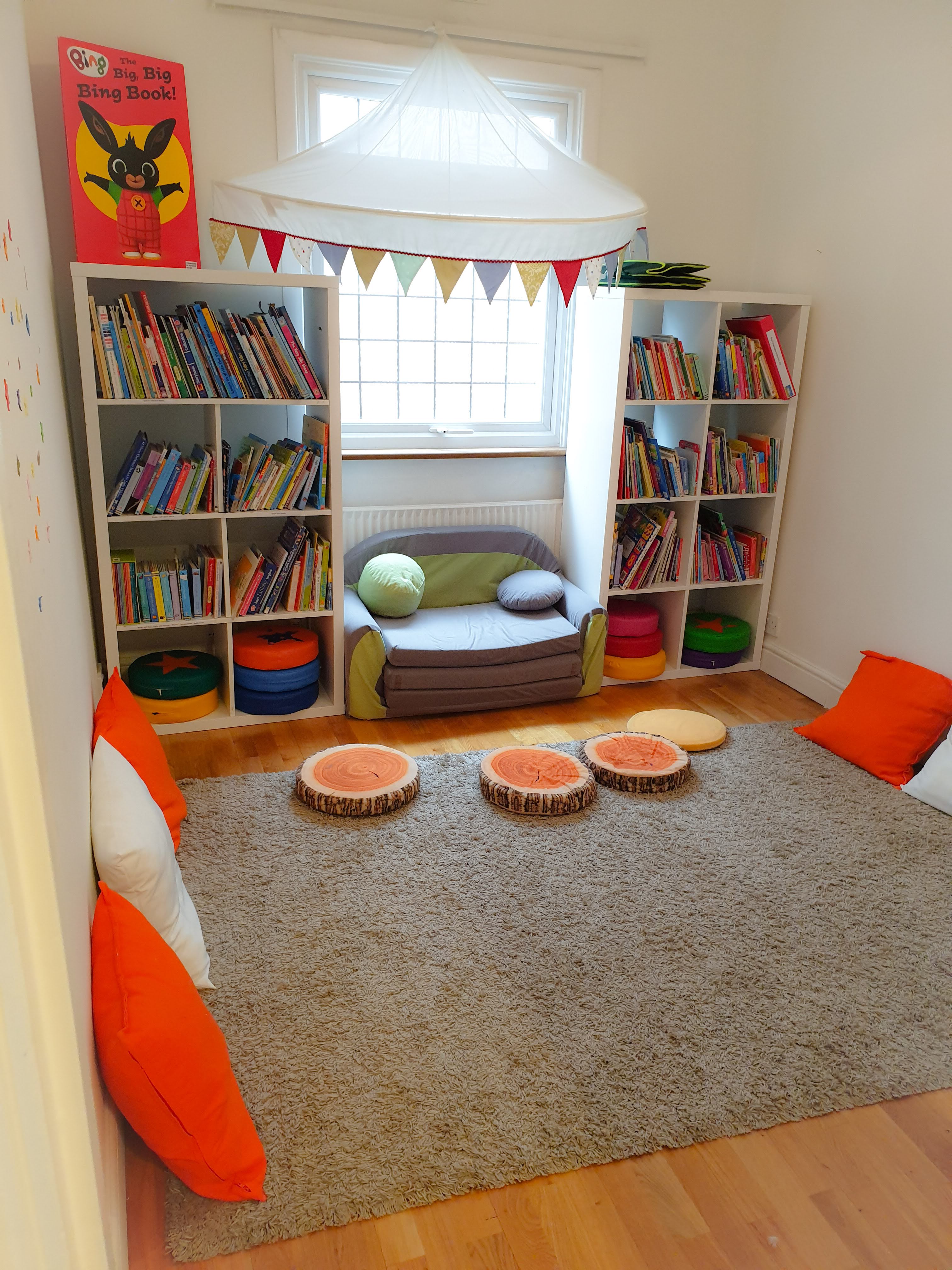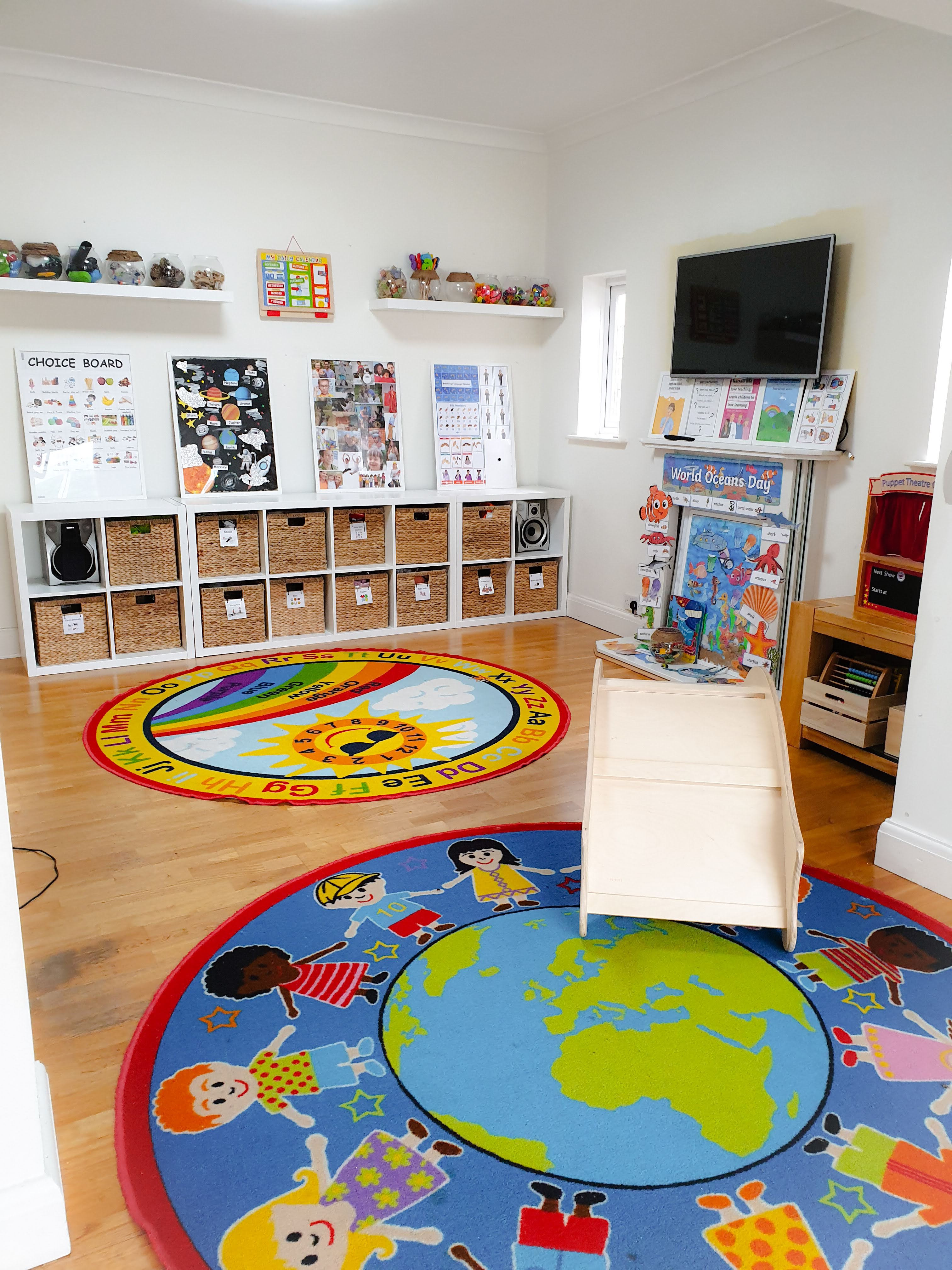 We have got a large clock on the wall where children enjoy counting, learning numbers and colours. There is a 'Days of the week' calendar on the wall. We also have 'Months of the year' on the opposite side.
There is 'Water area' for the children and it is free accessible.
There is a dining table on the left corner of the room. Next to it is the shelf where we keep the children's folders and all kind of paperwork. The kitchen is on the right side with security gate in operation.
Playroom 2
The conservatory is decorated in bright colours and it is one of the favourite places for our children. There is a lot of daylight and great view to our beautiful garden. The floor is insulated with suitable material. Plenty of resources are available to support learning and development for babies, toddlers and the older children. There is an art area where they can be creative and have fun as well. All of our resources are stimulating and fully accessible.
The walls are decorated with different posters and boards. There is 'The choice board' which helps children with learning difficulties to make a choice. We have variety of constructors, wooden and magnetic blocks to support their play and learning.
Each has got his own photo framed and displayed on the shelf. They always look at them and are able to recognise themselves or the other children.
Small tables and chairs are in the reception room where they sit to do drawing, painting and many more activities. This is the place where our children have their breakfast, snacks and lunch as well.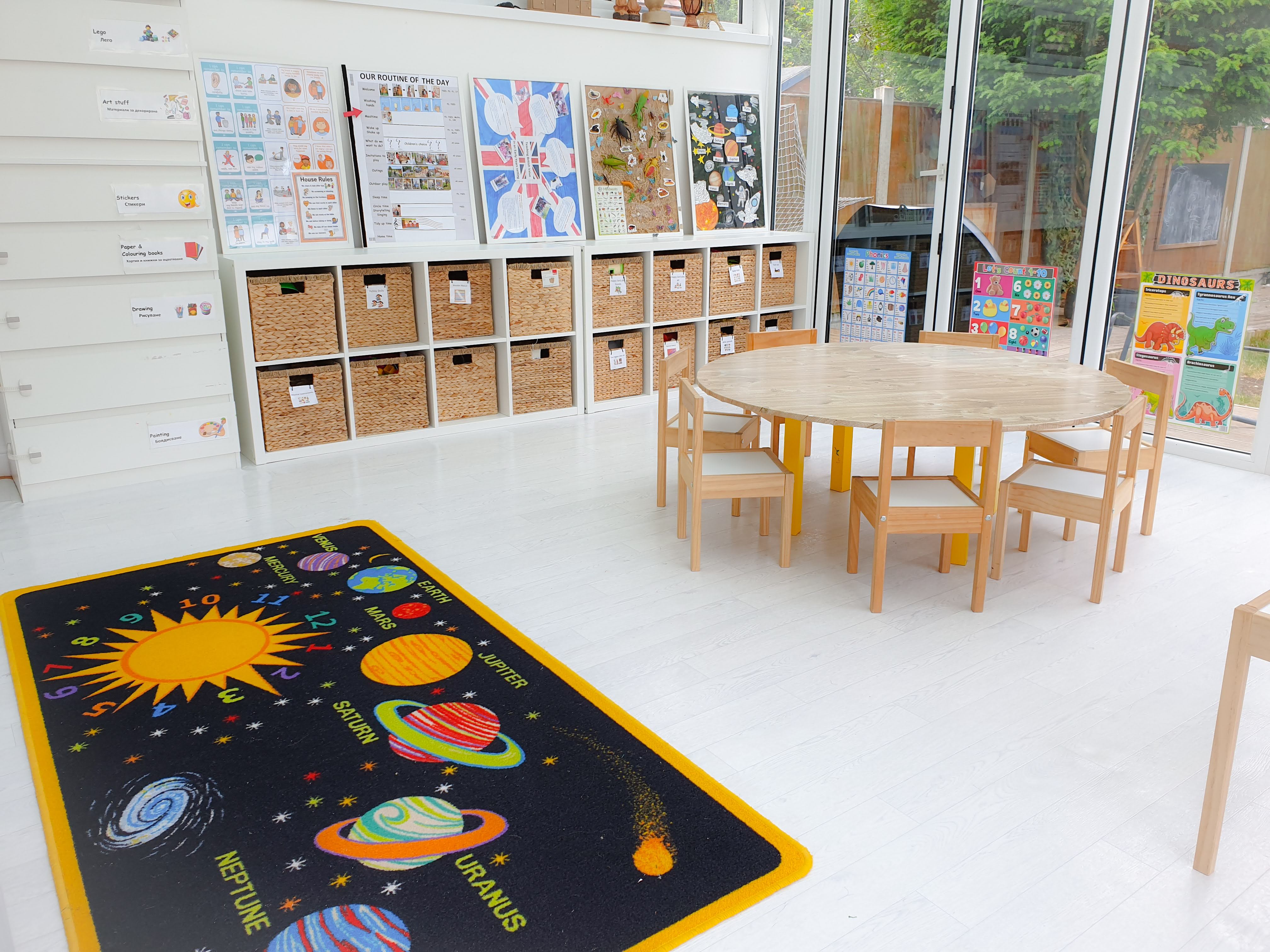 Outdoor space
The large garden is fully accessible for the children. They can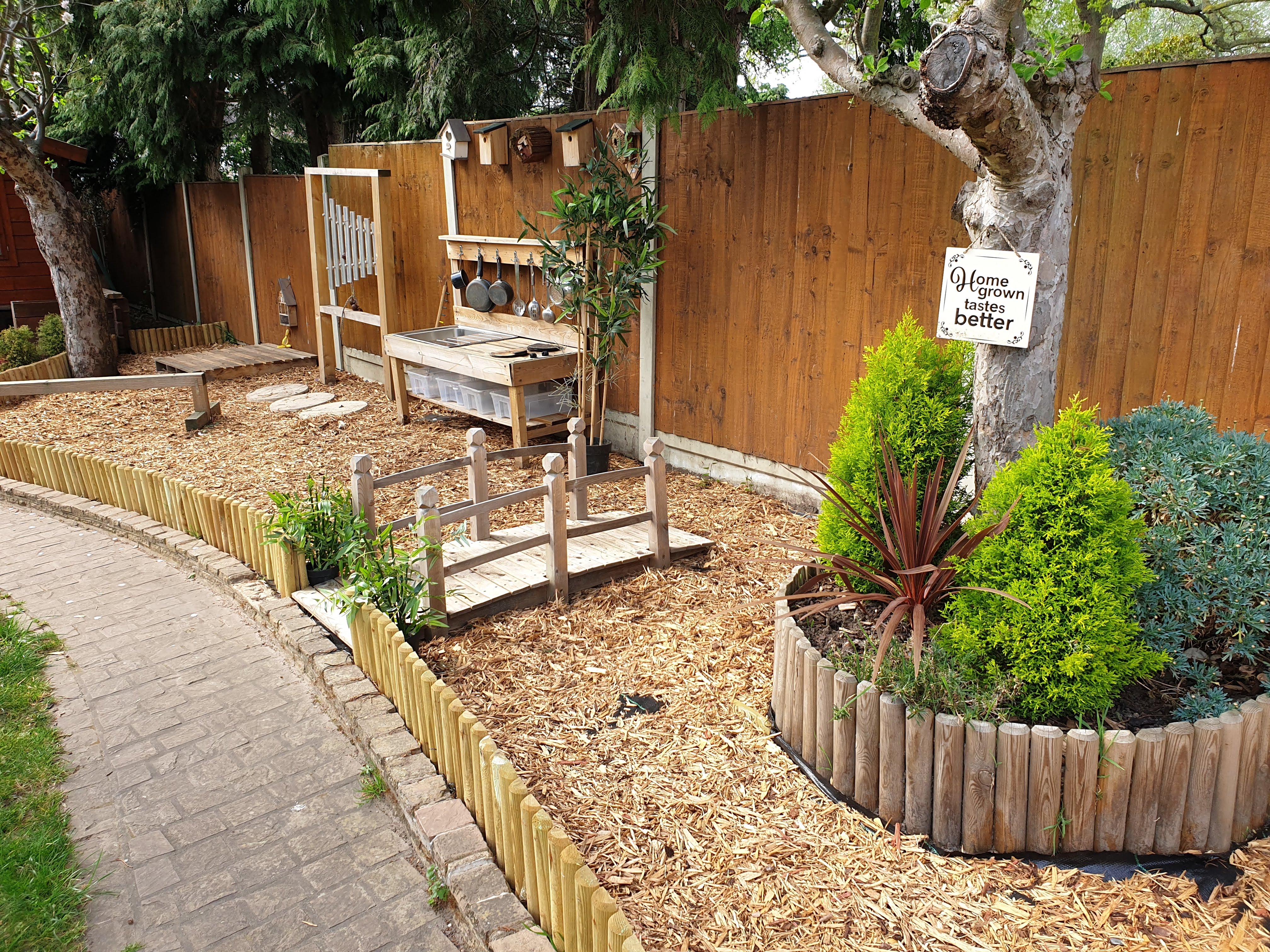 access the garden trough the reception room. All children have free access outside / inside at any time during the day.
The yard has variety of outdoor equipment, which is safe for children and encourages their physical activity. There is a slide, bicycles, playhouses, water area, swings, etc.
A large grassed child-friendly garden opens out from the conservatory. There is an alley which goes straight to the summer house. Our garden has many trees and flowers and while you walk you might hear a lovely bird melody. The children love to water the plants and share some creative ideas. There is a climbing frame, slides, seesaw, bubble machines, etc. There is also gardening area, water play area, wood area and obstacles area with tires.
There are many colourful balls to play with; there is a chalk available in different colours to draw and develop imagination.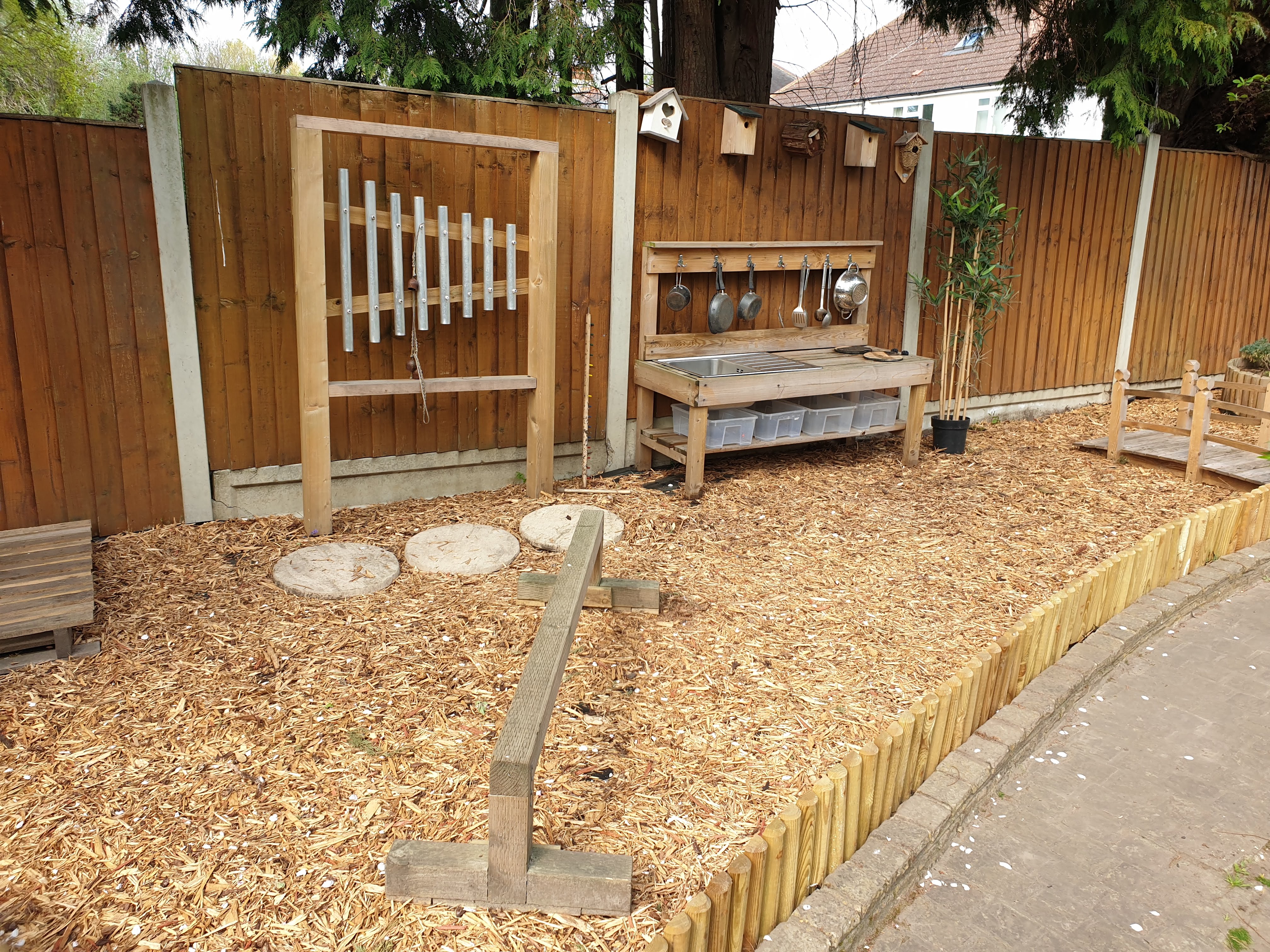 There is an incredible pond with fish in it and a small waterfall. The pond is secured and safe for the children. This part of the garden gives our children a real touch to the nature. They always look excited when it is time to feed the fish.
Play room 3
The summer house is made entirely of wood. There is a bench in front and a few plants on the other side. This is our role-play zone for the children. There are several areas where children play:
Kitchen area – it has a set of table and chairs, kitchen play set and a beautiful kitchenette;
Shopping area – it has a shop with small displaying area for its purpose, shopping trolley, shopping basket, money for shopping, etc.;
Beauty area – this area is next to the kitchen area. It has all the stuff needed for pretend make up play;
Construction area- this area is on the left corner when you enter the house. It has a Bosch play set and lots of elements to support children's play and reflective vests as well;
Music area- there is 'The stage' with a microphone, a disco ball,  fantastic carpet with lights,  piano, small chairs for the audience and costumes to support their performance;
Hospital area- this area has got a bed, a table, doctor set and costumes. This area is the most occupied place in the house.
There are tree shelves with many materials, toys, resources and equipment. On top of that, there is a sound system to support dancing.